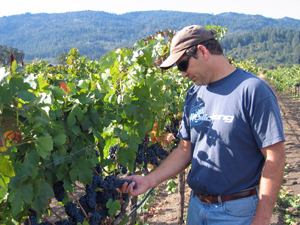 St. Helena ~ Napa Valley (AVA)
August Briggs: It's both the winemaker and the vineyard
A good colleague, Jim Laube, posited in his Wine Spectator column recently:, "So what is it? The vineyard or the winemaker?" His contention is that in the U.S., it's the latter that is in the forefront, and he may be right. But, as is the case with August Joe Briggs, it's possible that it's both.
by Alan Goldfarb
April 28, 2008
---

he
46-year-old Briggs first garnered a reputation of sorts as a "Pinotphile" when he made
Pinot Noir
for Alpine Vineyards in Oregon and at La Crema in Sonoma County, before making his own wines in 1995. Now, with his eponymous property –
August Briggs Wines
, just south of Calistoga on the Silverado Trail in the
Napa Valley
- Briggs' raison d'être is making single-vineyard and appellation wines.