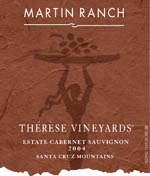 Tango in the Vineyard - The Love Affair of Martin Ranch
It takes two to tango, or so they say. But at Martin Ranch it takes two to make the wines at the Santa Cruz Mountains winery. Correspondent Laura Ness takes us on a tour and finds love in the air...and the barrel.
by Laura Ness
October 9, 2007
---

hat's
so special about
Martin Ranch Winery
? Well, first, the 11 acres of vineyards have ample sunny exposure, and the climate is quite conducive to producing good, rich flavors and even ripeness. Then, there's a beautiful pond, which provides both important irrigation water and a lovely place to relax on a summer afternoon.