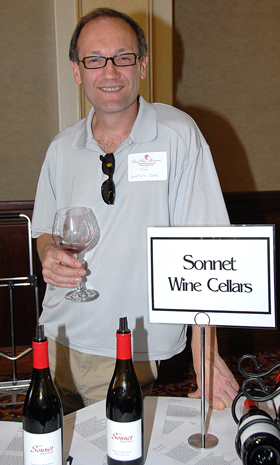 Shadowing the Master:
Uncovering Tony Craig's Cellar Secrets
Taste one of Tony Craig's Pinot Noirs and you may think he is a magician. No, he's just a damn good winemaker. And at more than one winery.
by Laura Ness
July 19, 2007
---
W
hen winemaker Tony Craig came to
Savannah-Chanelle Vineyards
in 2003, there was - as he put it - a sizeable inventory to move. And they did successfully move that backlog, after which, Tony's most excellent wines began to fill the shelves, and all was right with the world. Tony is a big fan of terroir: between his Savannah-Chanelle wines, the
Pinot Noir
s he makes for
Silver Mountain
and the ones he makes under his own label,
Sonnet Wine Cellars
, he has quite the collection of Pinot Noir, each one bearing a distinctive footprint of the earth from whence it came. Equally distinctive is the apparent influence of this winemaker's gentle, yet firm, hand, in every single wine he crafts.