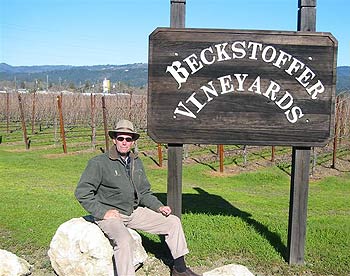 Feature Interview: Napa Valley grower Andy Beckstoffer
Super grower, Andy Beckstoffer, talks with Alan Goldfarb about the state of viticulture in the Napa Valley and the distinctive character of each of his Napa vineyard sites.
by Alan Goldfarb
June 27, 2006
---
<!>
Alan Goldfarb (AG):
You've had some time to assess the response from your Hang Time seminars. What have you seen taking place, both for your company and for the industry as a whole?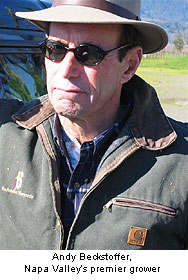 Andy Beckstoffer (AB):
There's been a lot of conversation on how to do things better and there's been some private experimentation (on vine regimens) and that will bare fruit.
The vines are out of balance (now). You really can't tell the wine flavors when you taste those grapes. They're (winemakers) waiting to get rid of the veggie flavors and when you wait, the sugar and alcohol levels go up.
We're also looking at irrigation and vine and manipulation practices. Late-season dropping of fruit does nothing to improve quality. It just reduces yields. What you're going to find, is that people are going to manipulate early and not fine tune at the end.
AG:
Are there plans in the works now or in the future to purchase more land in the Napa Valley? If so, what are you considering?
AB:
The only thing we want to purchase is the most expensive land in the Napa Valley because we assume it produces the best grapes.
Yes, (we'll purchase more in the future). We're red wine people and if anyone wants to sell the best red wine grapes, were interested in buying those vineyards.
AG:
Tell us about your
Carneros
vineyards (Carneros Creek - 44 acres, Carneros Lake - 198 acres and Las Amigas - 139 acres) where you grow
Merlot
,
Chardonnay
and
Pinot Noir
.
David Michul (DM):
It's on the edge because it's a cool climate. But the rewards are great. It surpasses everything it was going to be.
Jim Lincoln (JL):
The vine knows where they're at.
AG:
Andy, tell us about how you regard terroir.
AB:
It's the sum of all the physical features where the total is more than the sum of the parts.
JL:
It's influenced by the farmer. All of our decisions are based on history.
AB:
So that we have empirical data. In a place like this (Carneros), we slip-plow, turning the soil over about three-feet down so you change it … The water-holding capacity and the depth of the soils, not just the mineral content (determines terroir also).
AG:
How did Merlot come to be grown in Carneros where heretofore it had become known mainly for Pinot Noir and Chardonnay?
AB:
We wanted to grow red grapes. Most Pinot Noir that is grown here is grown by winemakers, not by farmers because it's a bitch to grow. We found out Carneros has a climate very much like Bordeaux. It's cool. We found there's soil out here that's four-feet deep and gravelly. It's a red grape region. It (Merlot) tastes like
Cabernet
but it grows like Pinot Noir.
In a lot of Pinot Noir circles, Carneros is too warm. With Merlot, we take our lumps … (but) we're in the process of moving all of our Merlot down here.
DM:
We've moved the bar. There's nothing wrong with up-valley Merlot, but it's a different quality.
AB:
Nobody knows where the best Merlot's grown in California. We think its right here (Carneros). It's dark, rich, layered. All black fruit, no red fruit, intense. You don't get the herbaceousness because of limited crops (3-4 tons per acre vs. 5-6 up-valley).
AG:
What about the Orchard Avenue Vineyard in
Oak Knoll
(87 acres of Merlot)?
AB:
We think it's cool and enough on the edge to grow Merlot. It has better soil than Carneros, richer.
AG:
Tell us about Vineyard X in
Oakville
.
AB:
The Cabernet (35 acres, some of which are still on AXR-1 rootstock, goes to
Merryvale
) with 5 acres in Merlot, that is sold to
Marilyn Merlot
) is approachable, dark, not jammy, herbaceous and has black cherry (flavors). The soils are deep and well-drained with gravel coming out of the western hills.
JL:
It's a very forgiving vineyard, if you pay attention. It comes from having soft hands. (It results) in the true expression of the vineyard.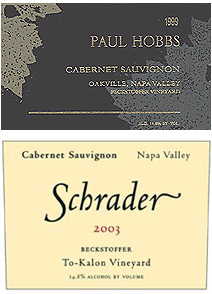 AG:
And now what about To Kalon (also in Oakville), perhaps one of the most famous vineyards in the country (Beckstoffer's piece is 89 acres of Cabernet,
Petite Verdot
,
Cab Franc
, southwest of
Mondavi
's portion;
Paul Hobbs
and
Schrader
, among several others, designate their wines from here). Andy, tell us about it.
AB:
The soils are more "limiting," not as rich as Vineyard X. There is fan leaf (a degenerative virus) inherent in the soil spread by nematods (but) the 03916 rootstock is resistant (to it). We know the soil and we have to use this rootstock. We use the vertical (trellis) system. The fruit is highly exposed.
It (produces) great fruit in good or bad years. It's classic Napa Valley with deep colors, herbaceousness, layers and layers, soft tannins, cassis and black cherry (flavors).
AG:
Next is Georges III in
Rutherford
, which used to be the fruit that went into
Beaulieu
's Georges de Latour. The vineyard – 172 acres of Cabernet – was purchased in 2000 and the first fruit you sold from it was from the '05 vintage.
DM:
This vineyard is flat and it's configured northeast and southwest because that's the way the sun's moving. It matches the sun's exposure. This is the new mode, to match the sun's travels, and we'll be doing it in all our other vineyards. We're trying to get the be